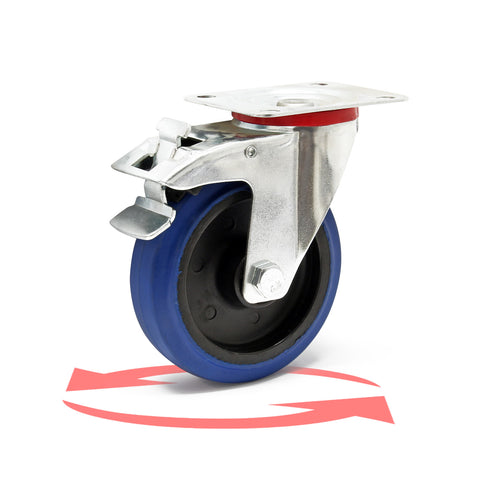 Set of 4 x Large Castor Wheel w/ Bracket, Brake, Wheel ⌀ of 125mm & Capacity of 200kg
If you need to move heavy loads this castor wheel is the perfect solution for you. The wheel can be mounted underneath a transportation device, allowing for heavy items to be moved from one place to another without much effort and while staying in full control of the direction. This wheel also has a brake which allows it to be fully locked so it cannot roll away when left somewhere.

The max carrying capacity of the wheels is 200kg. The wheel itself is made of plastic and blue and is very nice due to it being very quiet and easy moving. The bolted axle and the steel housing make the wheel very sturdy. Additionally, the housing is galvanised and chromated and also has a double ball cage.

The wheels offers a high driving comfort thanks to its quiet and easy movability but also due to its dampening for fragile cargo. So it can be used in multiple occasion and does not make too much noise or leave scratches on the ground.

The diameter of the wheel is 125 mm. Above the wheel there is a sturdy mounting bracket which has the dimensions of 105 x 80 mm. This bracket is mounted to any transport device via the pre-drilled holes.
Dimensions: Wheel diameter: 125 mm Height: 155 mm Bracket dimensions: 105 x 80 mm Hole pattern: 80 x 60 mm Bracket hole diameter: 9 mm Wheel width: 36 mm
762082
---
We Also Recommend