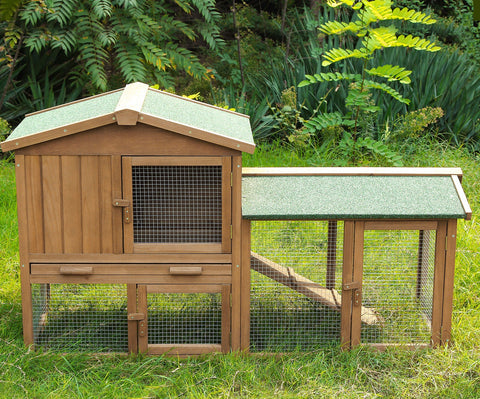 Rabbit Hutch/ Rabbit Cage/ Pet Hutch/ House Shelter
The assemble needs adult at the age of 15 or older, or person under the age of 15 under the guidance of adult.
Please match the corresponding board and screw based on the number.
Please strictly follow the procedures of the instruction
Need a screwdriver to install.
If the board does not match with the screw, please check the specification.
A spare screw for each type.
Do not stand or sit on the board before the installment
Do not stack on the hutch
Children are not allowed to go the hutch, or put the children into the hutch
Forbid children playing with the accessories or putting into the mouth
Not suitable for children under 3 years of age to play alone
Product Parameters:
Material: fir wood
Color: brown
Dimensions: about 147 x 52 x 85.5 cm
Dimensions of main room: about 78 x 53 x 85.5 cm
Dimensions of activity space: 73 x 54 x 61 cm
Size of upper door: 35 x 32 cm
Size of lower door: 30 x 25 cm
Weight: 21 kg