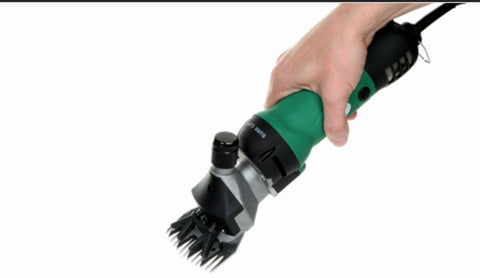 ErgoPro Master (Mains) Sheep and Cattle Clipper
These highly durable clippers are the latest in ergonomic design with non-slip polyamide finish, reducing operator fatigue and discomfort.

As used by Trevor Jackson from the IBBCS, were he clips the whole bodies of their pedigree cattle before showing and then our Showman trimmer for heads.

A great clipper for clipping backs of cattle before applying pour on as well as tails and of course, dagging and shearing sheep.

Perfect clippers for the busy professional as they are built for continuous clipping, Farm Relief managed 350 cows tails in one weekend with this clipper!
Model ErgoPro KLP306
Motor Size 450W 50Hz
Voltage 220 - 240V
Cutting Speed 2500 or 2800RPM
Weight 1.4 kgs
Decibel Rating 68 dB
Cable Length 6 Meters
Certification ISO, CTA, CE
Warranty 1 Year Warranty, 7 Days Advance Replacement
Included Clipper with dual purpose dagging blades installed, alan key, lubricating oil, carry case
---
We Also Recommend